Wiring a Joystick to the Controller
All Helicopters need some sort of directional control, so we can add a joystick to the Analog input X Axis and Y Axis as seen below. A Joystick assemble can be purchased just about anywhere on the internet. Just do a Google search for "Joystick Asemblies". Once you fine one, you must make sure it has a LINEAR output and its resistance for each potentiometer is about 100K ohms. If you can not find one of that value, you can go down to 10K, but no lower. If you have an old computer joystick lying around, you can take it apart and wire its internal potentiometers to the appropriate X/Y Axis on the Controller Board. Here's an idea for you, if you do not have a Joystick on hand, try going to your local Thrift or Goodwill store. I guarantee that you will find one for about $1.00 or less. Thrift stores are a treasure trove for all sorts of electronic gadgets as well as shielded RCA cables.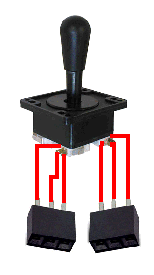 ---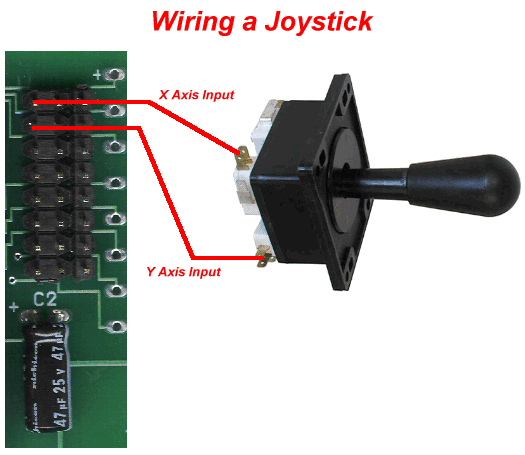 Wiring the LINEAR Potentiometers
So you want to design a Throttle for your helicopter? Well, you came to the right place. You can make your own Throttle by starting with the purchase of a 100K Ohm Potentiometer, Make sure it is a LINEAR type. Audio taper will not work properly. Luckly, Desktop Aviator has the Linear Potentiometers available HERE.
To the left is a 100K Ohm Linear Potentiometer with a short shaft (0.5in). Wiring of this pot can be seen to the left using the supplied 3-pin female connectors..
---
Wiring Slide Assemblies
To the left is a photo on soldering the 3 wires from the slide to the 3 terminal connector.
Terminal #1 from the Slide is soldered to the Right terminal on the connector; Terminal #2 from the Slide is soldered to the Center terminal of the connector; Terminal #3 from the Slide is soldered to the Left terminal of the connector.
Note that the Slide has TWO #2 terminals. This just means that these 2 terminals are connected internally. Use the #2 terminal that is at the same end as the #3 terminal as shown.
If you wish, you can purchase your own 100K Ohm Slide Potentiometer.
Just make sure it is a "LINEAR TYPE"; Audio Taper will not operate correctly. 10K Ohm Slides will also work just fine.
When the wiring is complete, just plug-in the 3-pin connectors into the Z Axis, Y rotation and X Rotation inputs on either the 2310 or 2312 Circuit Board as seen above.
---