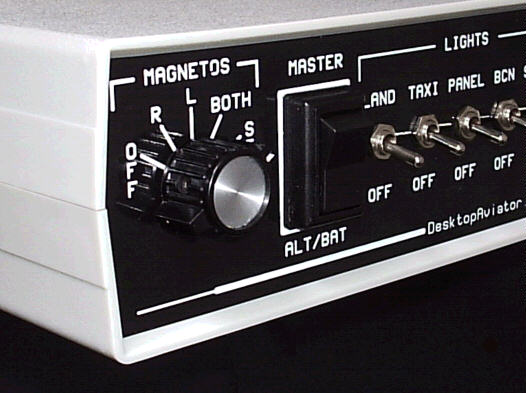 Thank you for your purchase of our Model 2100B Cessna Avionics Panel with Magneto Test Feature. Before use, the Panel must be programmed with switch assignments using a licensed version of FSUIPC. The Switch Assignments are involved but can be easily assigned with the help of the following information.

These Instructions can also be used to program the Model 2100 and Model 910 Avionics Panels.

If you have any comments or need additional information on the use of the 1010B Avionics Panel,

please write us at:




<! ============================= start ====================>
---
INSTALLATION
Installing the 2100B Panel requires very little time. All you need is an unused USB Port. These additional Ports can be added to your computer by using a device called a USB Hub. These Hubs can be purchased for as little as $20.00 in the Internet.
Just plus the USB Cables from the back of the 2100B Panel into the Hub Adapter and let your computer locate and load the required software for its proper operation. The Radio will be sensed as "Avionics Panel 2100-B". That's all there is to the installation.
Programming the Buttons and Switches
As mentioned earlier, the 2100B does require the licensed version of FSUIPC. This small .dll program resided inside the Module File of your FS2002, FS2004 or FS X Flight Simulator. FSUIPC come is two versions. The FSUIPC 3.75 used for FS98, FS2000, FS2002 and FS2004. While Version FSUIPC4 is used strictly for the New FS X Flight Simulator.
Either one of these programs can be Downloaded Free of charge from:
The Code Key for either program can be purchased from simMarket (A link to simMarket is also provided at the FSUIPC site). The code Key costs about $24.00.
When you download the required FSUIPC program; copy the .dll program to Flight Simulator's "Module" File. That's it. Now it's time to load and run your Flight Simulator Program. When running, click on "Create a Flight". When you have a your Cessna 172 or anyother aircraft on the Runway, press the "ALT" key. On the TOP of the screen a thin white band of extra options will appear. Click on "Modules"; then "FSUIPC".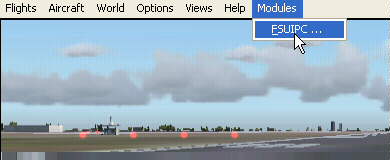 Using FSUIPC for the first time, you are asked to input your Name, Email Address and the Code Key you just purchased. When entered correctly, FSUIPC is ready to be programmed for use with your NAV/COM Radio (Note: After inputting your Code Key, you need to Restart Flight Simulator so that the Code Key can take effect.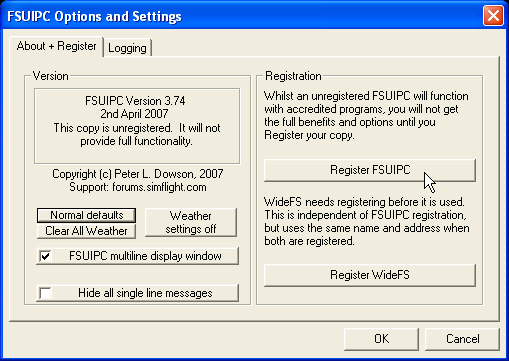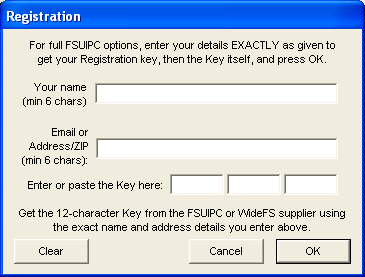 After reloading your Flight Simulator program; it's time to Program your Avionics Panel.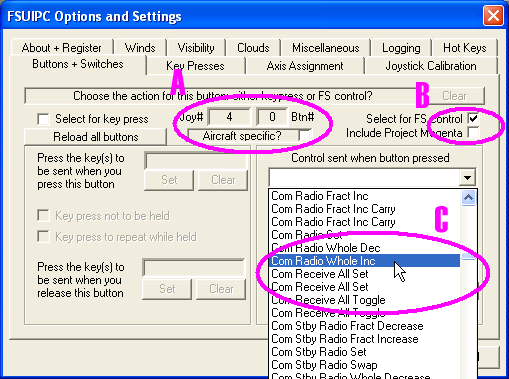 Programming the 2100B Switches
With your copy of FSUIPC Registered; now is the time to program the Radio Panel. Again, with FS running, hit the "ALT" Key. With the White Band appreaing in the top of the monitor; click "Modules" then "FSUIPC". With the main FSUIPC window showing, locate and click on "Buttons + Switches".
You will get the window appearing above.
There are three main sections of this window that require our attention. They are indicated by the letters "A", "B" and "C". Section "A" shows the Button or Switch that you press and it's USB Port Location. By pressing other buttons on the Radio Panel, these settings will change accordingly. "B" needs to be click. The "Check" Mark needs to remain with ALL Programming. This Check Mark allows you to choose your button assignments from the FSUIPC listing. "C" shows all the assignments available that your 2100B Panel can be programmed to.
Now using the TABLE below, we will program each 2100B Switch and Push Button to the needed functions. Table 1 shows the suggested setting of each of the 2100B's switches. These are only suggestions, over time you will be familiar with the FSUIPC settings and you will gain more confidence in programming the 2100B switches for your ouw needs.
Below is a photo of the front panel of the 2100B's front Panel. Each Push Button, Toggle and Rotary Switch is shown by a number. This number (in conjunction with the information in the Settings Table) will show you the which button would need to be "Flipped" or "Turned"

Model 2100B's Button Assignments for use with FSUIPC

With the Rotary Switch in its "Magnetos Right" Position; start your version of Flight Simulator. Open the FSUIPC software as described above and proceed with the following TABLE.
Table below can also be used for programming the Model 2100 & Model 910 Panels.
| | | |
| --- | --- | --- |
| Panel Switch | Switch Action | FSUIPC Assignment |
| Rot Switch | Rot Switch to "OFF" | MAGNETO OFF |
| Rot Switch | * Rot Switch to "R" | MANGETO RIGHT |
| Rot Switch | * Rot Switch to "L" | MAGNETO LEFT |
| Rot Switch | * Rot Switch to "BOTH" | MAGNETO BOTH |
| Rot Switch | Rot Switch to "START" | MAGNETO START ( * CHECK - Control to REPEAT ) |
| Rocker SW #2 | ALT/BAT On/Off | TOGGLE MASTER BATTERY ALTERNATOR |
| Toggle Sw #3 | Landing Lights | LANDING LIGHTS TOGGLE |
| Toggle Sw #4 | Taxi Lights | TOGGLE TAXI LIGHTS |
| Toggle Sw #5 | Panel Lights | PANEL LIGHTS TOGGLE |
| Toggle Sw #6 | Beacon Light | TOGGLE BEACON LIGHTS |
| Toggle Sw #7 | Strobe Lights | STROBES TOGGLE |
| Toggle Sw #8 | Flip Pitot Heat Sw | PITOT HEAT TOGGLE |
| Rocker Sw #9 | Flip Avionics Master Sw | TOGGLE AVIONICS MASTER |
* NOTE: Rotary Switch Positions "R", "L" & "BOTH" NOT Available with the Model 2100 and Model 910
To keep the switches in sync with the avionics panel seen on the screen, place the Rotary Ignition Switch to its "BOTH" position; MASTER ALT/BAT switch to "On"; MASTER AVIONICS switch to "On" and all remaining toggle switches to "Off"; before running Flight Simulator program.
---
HAPPY FLYING!
Purchasing Information can be found HERE;
---
---
---


<!- START COUNTER CODE -->