Microsoft's Flight Simulator FS2000, FS2002 & FS2004


---
Completely Assembled/Tested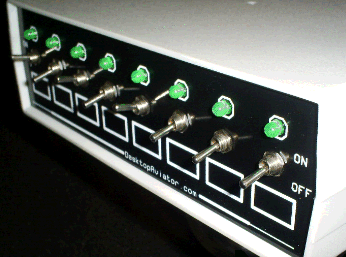 * Just Plug Interface into USB Port
* Interface sensed as USB Joystick
* Add Up to 8 Toggle Switches
* Use Flight Sim 'Settings' to Assign Functions
* Uses Standard USB Connector
* NO Outside Power Required
* Easy Programming Instructions



Dramatically Increase the realism of your Cessna 172 flight by adding outboard control panels in place of point and click Mouse or keyboard input.

You can EASILY Add 8 Toggle Switches to your Microsoft Flight Simulator FS2000, FS2002, FS2004, FSX, X-Plane ect.
Sense the realism of flipping a toggle switch to turn your 'Fuel Pump' On or Off.

Or press a Button to Display you GPS or Radio Shack on-screen.


With this 'Avionics Switch Panel',
you can do just that.
The USB Interface is mounted in an eye pleasing Gray Plastic case.

The USB Cable is Approx. 8.0 feet long


---
Testing Your Interface (Windows XP)

After unwraping your Switch Panel, you might want to test the device on your computer to make sure of its operation and its compatibility with your OS. In this example, I'll use a computer running Windows XP. With your computer Booted-up; LEFT click on the
icon located at the bottom left half corner of the screen; then bring the cursor to CONTROL PANEL (Left Click).
With the Control Panel showing, click on GAME CONTROLLERS as seen below.




When clicked, you will now be greeted with a list of USB Joystick Controllers. The one we are interested in at the present time is USB JOYSTICK. Click to highlight this Item.




Then by Clicking PROPERTIES a new window will be displayed.




Now Flip each of the 8 Toggle Switches. Not only will the LED Light but you will see a 1/4 second flash of the corresponding "RED" Button.
The #9 and #10 Buttons can be activated by installing the optional Parking Brake or
Carb Heat Controller.
---
Installing the Interface to the FS2002 Flight Simulator




Load and RUN your Copy of FS2002 (or FS2004)
When Runing CLICK on 'Settings'




Then CLICK on 'Assignments'




Then CLICK on 'Joystick' and DELETE any Default settings made by FS2002 (or FS2004)




Finally, CLICK on 'Buttons/Keys' and DELETE any Default settings made by FS2002 (or FS2004)
Now using Flight Simulator's 'ASSIGN' window assign the 10 buttons now connected to the INTERFACE to any function listed in the 'Settings/Assign' window.

For users of FSUIPC, the Avionics Switch Panel can also be programmed to any of the 100+ functions found with FSUIPC.

That's all there is to it!


<!- START COUNTER CODE -->

website counter
---
---
---

<! 123Inkjet W/coupon>
<! FS AddOn Manager - Affiliate>
Click HERE
<! eDimension Affiliate Program>